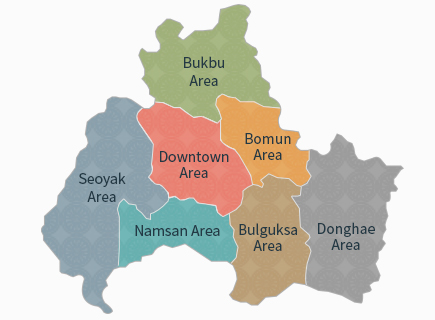 "Sasaseongjang (寺寺星張) Taptapanhaeng (塔塔雁行)"
"Temples align like stars in the sky, and pagodas line up like wild geese."

It is a phrase out of "The Heritage of the Three States (三國遺事)," which shows an aspect of Silla's splendid prosperity. For 992 years (BC 57 - AD 935), Gyeongju was the capital of Silla where the culture of the ancient kingdom stayed alive through Buddhism, science, and art as well as the spirit of Hwarang, or "Flowering Knights," an elite group of male youth. Gyeongju is geographically divided into a total of seven areas: Downtown, Bomun Tourist Complex (or Bomun Area), Bulgulsa, Namsan, Donghae, Seoak, and Bukbu. Each area has distinctive characteristics and charms, making it an ideal place for organizing a convention requiring diverse programs per theme or purpose.